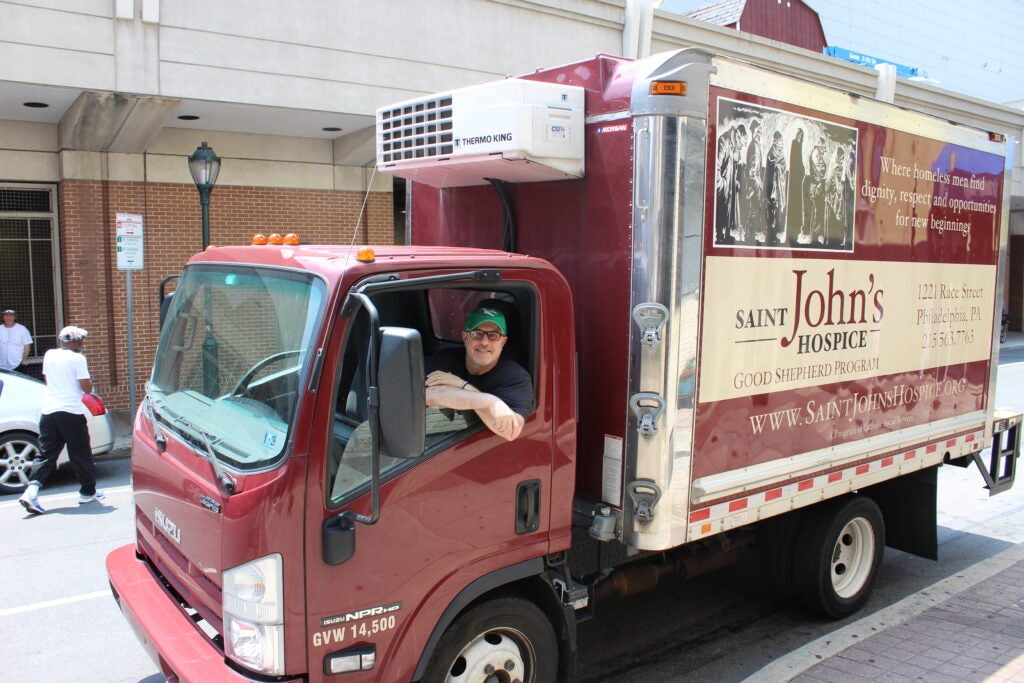 Every morning at 5:30 a.m., Michael D'Ambrosio arrives for work at Saint John's Hospice. It's his job to drive the large, refrigerated truck that picks up over 1,000 donated casseroles received by the hospice every month from over 47 parishes in Philadelphia and its four suburban counties.
The large dish casseroles, prepared dutifully by parishioners, feed tens of thousands of homeless men each year. "Their generosity is overwhelming," Mike said, speaking about those who prepare the casseroles. "Their selfless work and dedication to Saint John's mission is a great example of true kindness and love for our homeless brothers."
The kitchen staff at the hospice reheat and serve the casseroles each weekday to feed the men who participate in St. John's day services program. On a busy day, Saint John's serves well over 300 men. In addition to a hot meal, they benefit from clean clothing, toiletries, a shower, case management, nursing care, mental health counseling, and mailroom services. Most of the clothing and personal care items are donated by parishes, schools, and local community groups.
Saint John's Hospice also provides short-term shelter for 40 homeless men. Rooms for 12 medically-fragile homeless men are available at the adjacent Good Shepherd Program. Those in need of lodging are referred to these programs from local government partners.
The average stay for a resident is six months, during which he works with a case manager to apply for housing and to connect with support services as he transitions back into the community.
"At Saint John's, we create an environment that fosters opportunities for permanent change," said Steve Walenta, case management supervisor. "Each person is provided with the structure and encouragement needed to pursue his goals. This would not be possible living on the streets." Walenta wants residents to have the tools they need to break the cycle of homelessness.
Men not able or ready to move into Saint John's as residents, often due to mental illness or addiction, are welcome to stay the night in the Saint John's Coffee House, an emergency drop-in center located in a covered garage adjacent to the shelter.
Every night of the week, chronically homeless men come to the Coffee House at 10 o'clock in the evening and stay until six o'clock in the morning. There they find a welcoming and safe place to rest, a hot meal, use of bathroom facilities, and a shower in the morning. Unlike the residents of Saint John's and Good Shepherd, these men are transient and not committed to return each night to the shelter. Instead, Saint John's "meets them where they're at" in their journey, in the hope that the stability provided by the Coffee House services and welcoming staff will encourage them to seek more help and make positive changes in their lives.
All of these programs at Saint John's Hospice provide life-sustaining services to thousands of men each year with one unifying goal – to provide nourishment and opportunities for change to the homeless community of Philadelphia, offered with respect for their inherent God-given dignity.
To offer these vital services, Saint John's development team works diligently to raise money through several fundraisers and campaigns during the year. "We at Saint John's are extremely fortunate to have the support of very loyal and generous donors," said Marty Farrell, community relations coordinator. "While we do receive some government and foundation grants, the majority of our funding is from individual donors. We are honored to have the responsibility of ensuring that their contributions have a direct and positive impact on the homeless community of Philadelphia."
Every day the staff and volunteers of Saint John's Hospice feed, clothe, and comfort those who suffer from poverty, hunger, and homelessness. Saint John's benefits from over 38,000 hours of donated service from 1,740 volunteers each year. Their mission – to serve "the homeless Jesus" whose presence is seen daily in our brothers in need – is a beacon of light for all who seek help and hope. That light shines brightly today and every day as Saint John's Hospice continues to be a place of compassion, acceptance, and support for thousands of homeless men year after year.