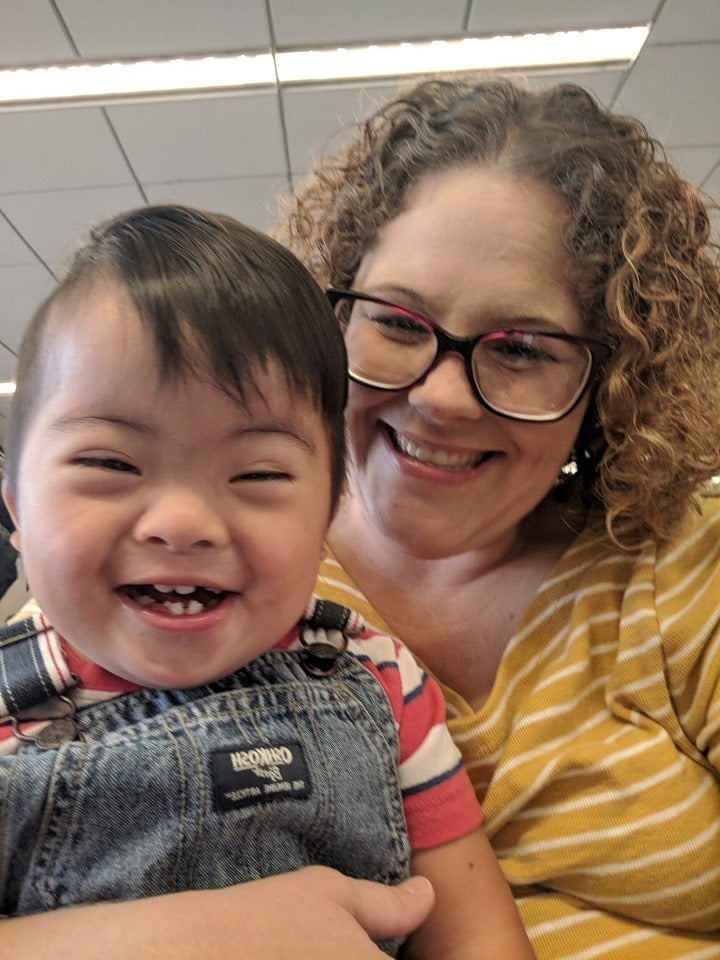 There are three stages of starvation.
Stage 1 is losing significant weight. Stage 2, losing height. The last stage is losing head circumference. Once you pass stage three, there is death.
But…
It's amazing what love and a family can do…
In 2018, adoptive couple Billy and Laura Marshall identified a little boy with Down syndrome in China who was available for adoption and desperately needed a family. Commonwealth Catholic Charities in Richmond, Virginia, provided their home study and post-placement services so this family could pursue their desire to adopt this child. Until they brought him home, they referred to him as Little Guy.
Asa Courage Marshall was born November 16, 2015, in the People's Republic of China. When the Marshall's saw him on an adoption agency's website, they were shocked to learn that what looked like a 9-month old little boy was actually a three-year-old. In places like China (among other countries), children born with any kind of handicap are sometimes considered "throw away kids." They are considered unworthy of care, time or energy, and they are dismissed as lower human beings who will never amount to anything. Such was the case with Asa.
Asked why Asa was so small, Laura Marshall replied: "severe neglect." From the time Asa entered the orphanage, he was not cared for in the same way as the children who were developing more typically. From 2015 until Billy Marshall traveled to China in January 2019 to get him, Asa was left in a crib all day. He received food that contained little nutritional value. He received no help in meeting the developmental milestones necessary for all children as they grow. Asa was left to die.
Asa could not hold his head up. He could not sit up without assistance. He would not eat. He never talked or babbled. He preferred to just lay on his back. He preferred to stare at the ceiling. He did not know how to play with a toy. He didn't know how to do anything but survive. Asa was not thriving or growing. In fact, he was shrinking. It was only a matter of time before Asa would die.
When Asa came home to his forever family, Laura took him in for what she thought was going to be a routine check-up from head to toe at the Children's Hospital where they live. Instead, it ended up being more than a month-long hospital stay with a diagnosis of severe malnourishment. At three years of age, Asa weighed 12 pounds.
Six months later, Asa weighed 21 pounds and had grown six inches in length. He ate regular food. He could hold a spoon and feed himself. He sat without support, and scooted. Now, he holds his head up, his teeth have come in, he has healthy hair, he has gained muscle and fat, he smiles and laughs and…wait for it…he loves.
He loves. He loves because he is surrounded by love.
Asa is thriving. Asa is growing.
Asa will be four years old in November 2019. He is no where near what we all know a typical four-year old to be, act like, look like. But does that matter? Not right now. What matters is that a family saw a human being when they looked upon "Little Guy". And then Little Guy became a son, a brother, a grandson. He became a part of something bigger: a family. A family that loved him unconditionally and ultimately saved his life. A family who saw a human being who was worthy of love. Who was worthy of their time and energy. Who was worthy of being a part of their family.
A human being who was worthy. Period.