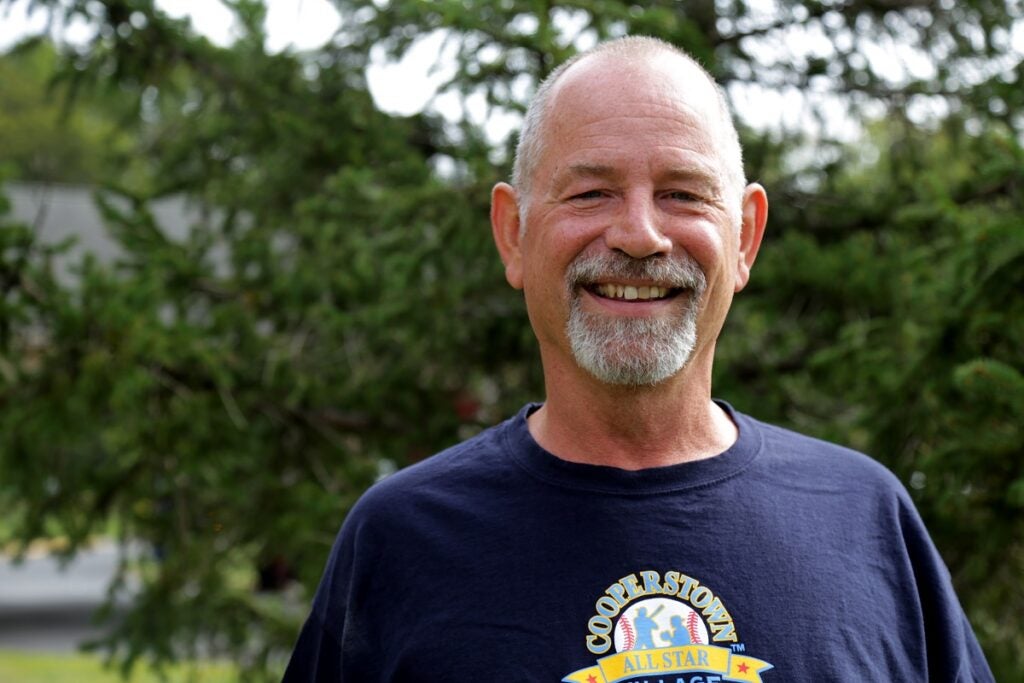 Chris first tried drugs when he was 15. Marijuana gave way to harder drugs, and occasional dabbling grew into daily use. There were a few wake-up calls – like when he sold his car for money to buy cocaine or when he had to defend himself in a knife fight on his way to buy drugs. But he slept through them.
"I thought it was just normal, hedonistic living," Chris said. "I didn't heed any of the red flags then. I didn't think I was struggling. But I was."
In August 2009, a wake-up call came that was too loud to be ignored. After he received a $10,000 payout in a fraud case, some "friends" beat him badly, stole the money, and left him for dead.
"I woke up in the hospital and just thought how God gave me a second chance," he said. "I could have died – and many addicts do die. I was relieved of any desire to use again."
Chris left his neighborhood, partner, and friends behind for good. He hasn't touched drugs since – but learned in therapy that his addiction masked undiagnosed mental illness.
"I was self-medicating to feel better. But all drugs did was delay the crash of my depression and suicidal tendencies," Chris said.
In 2015, Chris reached out to Catholic Charities, Diocese of Trenton's Delaware House in Westampton, where people struggling with addiction and mental illness can recover in individual and group therapy, get employment assistance, and participate in other activities with the goal of independent living. There, staffers like counselor Teresa Stroud taught him coping skills. He learned how his childhood trauma, which included being raised by a father with an explosive temper, echoed into his adulthood. He now visits Delaware House three times a week, finding strength and solidarity in group counseling.
"There's no doubt that Catholic Charities played a gigantic role in saving my life," Chris said. "I was in desperate danger of committing suicide. I learned it's OK to have help. You can learn how to cope with day-to-day living. I want people to believe in the system, because it works."
Most importantly, he learned that recovery requires ongoing work and commitment. "It's a manner of living that demands rigorous honesty and your attention," he said. "I am confident but not complacent. I've been working on myself for 10 years – and I still am. I just forgave my father the other day."
In treatment, Chris rediscovered his interest in old hobbies, like bowling. He's also rekindled his life's passion – umpiring baseball, which he first began doing at summer camp when he was 10 years old.
"They needed an umpire, so I stepped up – and I loved it. It was like cupid shot me. I was half-decent at it, so I did it the rest of the summer. And now, I've been putting a mask over this face since 1972," said Chris, who even worked a brief stint as a professional umpire in Minor League Baseball.
He doesn't know what the future holds. He sets small, short-range goals for himself, as he learned to do during his recovery.
"When I think of my addiction, I think of making it to midnight without drugs. When I'm sad or suicidal, I think: Let me get through today. It's like weight loss – if you have to lose 50 pounds, first lose 5 pounds," he said. "When you set small, short, doable goals, you can achieve them. This has blossomed into 10 years of recovery."
He added: "I am so grateful to be alive and out of the cinderblock cell of depression that I've got to pinch myself every 10 seconds. I'm living one day at a time. Every morning, I thank God for a new day."