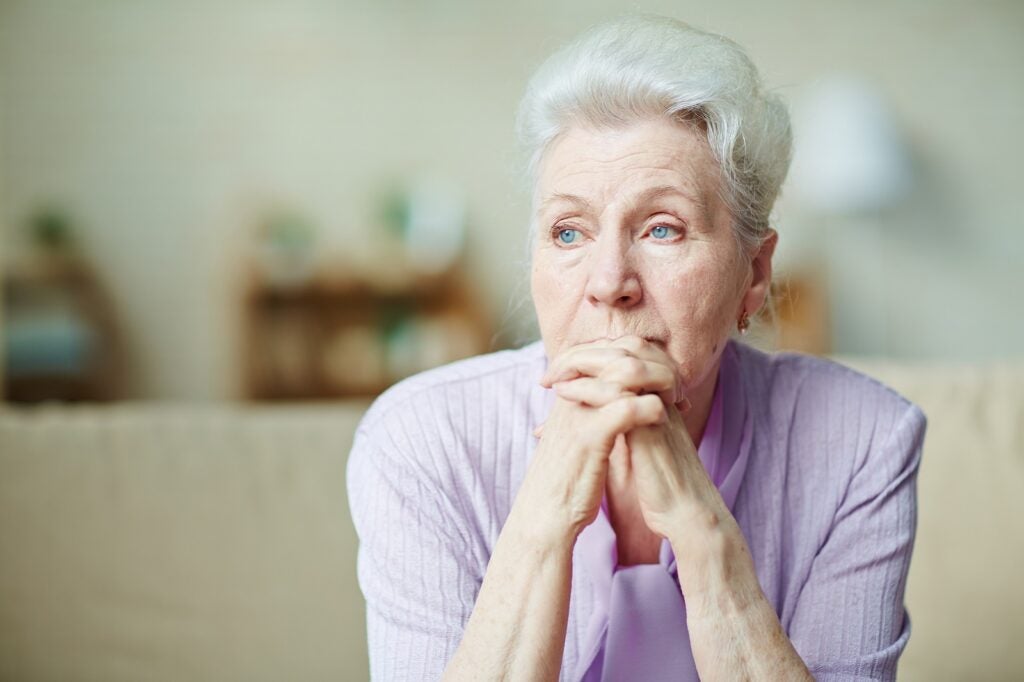 Jackie did not expect to become homeless because of the actions of someone close to her. Despite the uphill battle she faced, she rebuilt her life with a little help from Catholic Social Services (CSS).
Jackie had done everything right in life. One Sunday morning, she was sitting in her home drinking tea when someone knocked on the door. Her daughter went to answer it and upon returning told her mother, "We have ten minutes to be out of the house."
This was the first shocking revelation Jackie received in what turned out to be the longest day of her life. By the end of the day, she had lost everything she had worked her whole life for. She never thought that she would be broke, let alone betrayed by a loved one.
Jackie is a retired nurse who had always had a good income and was able to retire comfortably. When she had a stroke that made it difficult for her to walk, her daughter moved in with her to help her manage her life, including her finances. It wasn't until the morning Jackie was kicked out of her home that she realized her daughter had been taking her money to buy drugs.
Jackie's daughter did more than steal Jackie's hard-earned income. She also sold Jackie's pain pills, replacing them with similar-looking pills to fool Jackie. She pretended to lose Jackie's cell phone, isolating her from the outside world with only her dogs for company.
Upon her daughter's pronouncement that she had to be out of the house in ten minutes, Jackie, completely taken off guard, had a panic attack so severe she had to be transported to the hospital. By the time she was released from the hospital, her daughter had taken all her money and personal belongings. Jackie found herself alone, without her beloved dogs, holding her few possessions in a garbage bag. In Jackie's words, "51 years I was a nurse, and I came out with a little garbage bag of stuff."
Starting over was an uphill battle for Jackie.
She faced what she calls the "virtual endless circle" of bureaucracy, which was exacerbated by having lost all her personal documents, as she tried to reclaim her Social Security check. She had closed her bank account so her daughter couldn't keep stealing, so she needed an ID to get her check. Her daughter had taken all her possessions, including her ID. She could get a new ID by showing her birth certificate or Social Security card—but of course, she didn't have those, either.
On top of all this, the compounded stress was taking a serious toll on Jackie's mental health. "At that point, I was broken down and didn't know what to do," Jackie said. "I was ready to commit suicide." It was while she was in this desperate state that Jackie's doctor referred her to CSS' Payee Program for help.
Jackie's Payee Specialist set a goal that Jackie would be settled in a new apartment within two months—something Jackie didn't think was possible. But she gently guided Jackie to make decisions, and they met the goal.
Now, Jackie is settled into her new home and is thriving.
Through the Payee Program, CSS uses Jackie's money to pay her necessary bills, then gives her the remaining money. This takes the responsibility—and stress—off of Jackie's shoulders. Jackie has built up over $2,500 in savings, and lives comfortably. She is active in her community and tells anyone who will listen about what CSS has done for her: "CSS helped me remain independent by managing my money so I have money in the bank to make choices for myself; I don't have to have other people make the choices for me."
She acknowledges that most people can't imagine giving over control of their money to anyone else, but said, "People could use this program if they understood it. You get peace of mind, and can relax and smile."