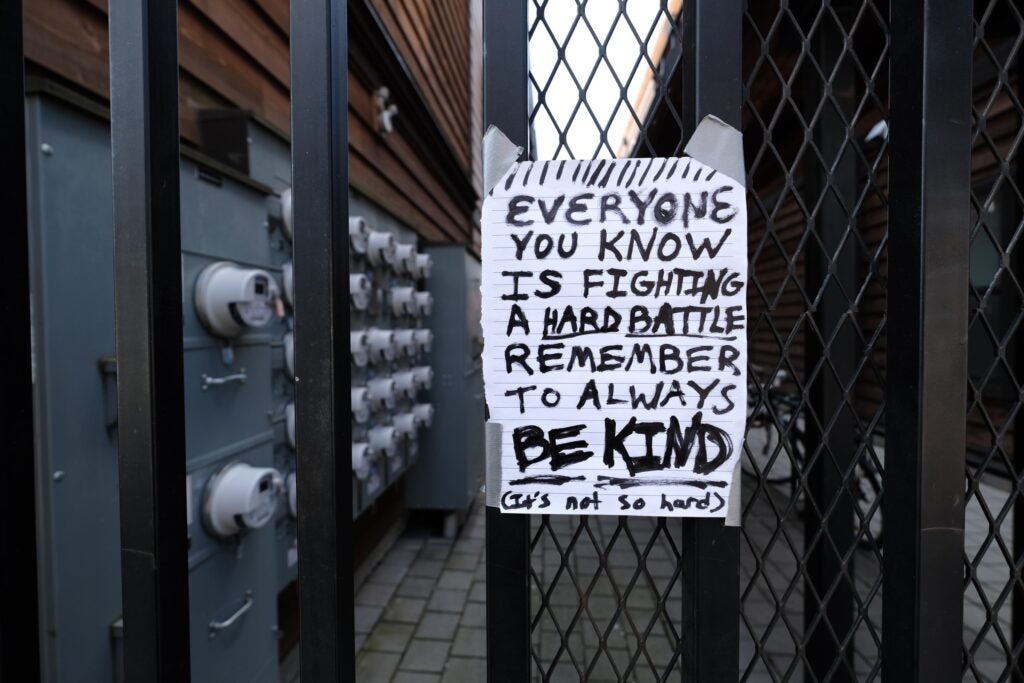 The coronavirus has reshaped life in the United States in many ways, but in key respects it has affected Black, Native American and Latino individuals more than other racial or ethnic groups.
People of color get sick and die of COVID-19 at rates higher than white individuals and higher than their share of the population, while at the same time the virus disproportionately affects their finances, education and emotional well-being.
In Oregon, Hispanics are the largest minority group, and Catholic organizations have expanded their efforts to meet their burgeoning needs.
According to a September survey by the Commonwealth Fund, a health care research group, about 40% of Latinos report having stress, anxiety or sadness due to the pandemic, compared to 29% of white individuals.
Catholic Charities of Oregon's Intercultural Counseling Center and Northwest Catholic Counseling Center's Levantar Program are among the limited number of Oregon programs offering culturally informed counseling in Spanish.
Marti Diaz-Domm, director of Levantar, said many of her clients do not have legal documentation and several have had multiple family members die from the virus. "They are dealing with two layers of pain," she said. "There's the grief and anguish over the death and the persistent fear of deportation."
Clients who become ill themselves struggle to obtain treatment.
"They are considered essential workers, but when they get sick, they aren't provided with the same care that other people are," said Diaz-Domm. "They feel used," she told the Catholic Sentinel, archdiocesan newspaper of Portland.
Parents worry about their children's participation in distance learning while they labor outside the home. "Moms and dads might need to leave the kids with a grandmother who can't help with schoolwork because she cannot speak English," Diaz-Domm said.
Along with providing mental health support, Levantar staff inform clients about school and hospital resources.
"When appropriate and at their request, I also will pray with them," said Diaz-Domm.
Hispanics account for an estimated 50% of the Catholic community in the state. Oregon Catholic Agustin Maldonado, an immigrant from Mexico, recently began receiving support though Catholic Charities' Intercultural Counseling Center. He had a severe case of COVID-19, and while he feels much better, there are lingering psychological repercussions.
"The mental impact of this illness is tremendous," said Maldonado, 55, in Spanish. "I am very grateful for Catholic Charities' help."
Cynthia Molina is assistant director of emergency and navigation services for Catholic Charities' financial wellness program called Save First. "We've seen a lot of families affected in more than one way," she said. Many have lost their jobs or seen their hours reduced. Undocumented families have a difficult time applying for services.
"We help them navigate the system and know that they are eligible for things like food stamps," said Molina. Catholic Charities has an expanded food pantry that families can access, and staff deliver food boxes regularly to affordable housing complexes with a high number of Latino families, farmworkers among them.
If a client has trouble covering rent, staff typically go over a client's budget with him or her to see what expenses can be cut. "But most Latino families are already living on a budget and trying to stay in their means," Molina said. "It's COVID that makes that nearly impossible."
Molina helps clients find creative ways to earn money outside their regular jobs. "If someone is a great cook, for example, we'll ask if they can make a specialty and sell it," she said.
El Programa Hispano Católico is a Portland-based nonprofit that grew out of Catholic Charities.
One of the ways the organization has aided Latinos is by helping bridge the digital divide as families struggle with distance learning. "Latino families don't always have computers or internet to log in for classes," said Edith Quiroz, El Programa Hispano executive director. "Our education teams have stepped up to get people set up virtually."
The nonprofit has food pantries for seven schools in the Portland metro region and has distributed nearly a million dollars in rent assistance.
It also runs a culturally specific program for survivors of domestic violence.
"We've seen an increase of adult survivors who can't reach out for help because the pandemic has increased the time survivors spend with their perpetrators and prolongs their ability to create a safe exit strategy," said Quiroz. So staff members are finding ways to support victims virtually. Sometimes clients have sessions on their phone in a car.
"There are systemic inequalities that have resulted in a range of hardship for Oregon's Latinos," Quiroz said. "We've tried to pivot for families and to be a light and a source of hope."
– – –
Copyright ©2021 Catholic News Service/United States Conference of Catholic Bishops. The CNS news services may not be published, broadcast, rewritten or otherwise distributed, including but not limited to, such means as framing or any other digital copying or distribution method in whole or in part, without the prior written authority of Catholic News Service.