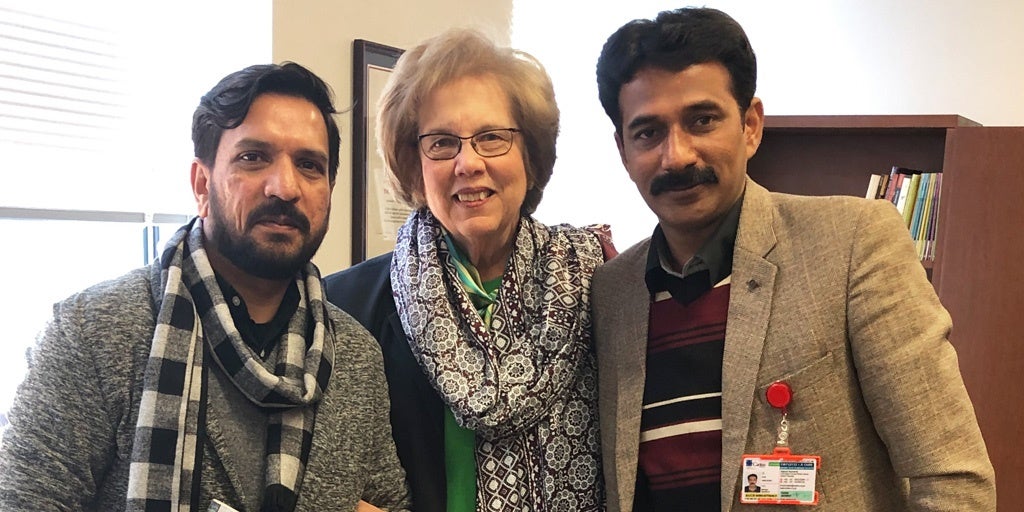 In January 2020, two members of Caritas Pakistan visited the offices of Catholic Charities USA (CCUSA) in Alexandria, Va., to discuss best practices in disaster management.
Amir Robin, regional emergency officer, and Sanam Samuel, manager of finance and operations, had been scheduled to attend CCUSA's Applied Institute for Disaster Excellence (AIDE) in December 2019, but an emergency kept them in Pakistan.
With the emergency handled, Robin and Samuel decided to visit the United States as planned and arranged meetings with CCUSA for an "up close and personal" edition of AIDE. While at CCUSA, the pair met with the disaster operations team and covered topics that would have been part of the institute.
"We had a very fruitful and varied exchange of views regarding our work," Samuel said. "I must say, beyond our expectations, we have learned a lot from the staff members here, and we are very happy to know that Caritas Pakistan and CCUSA have many of the same projects and are implementing them at the same level in disaster management."
When asked if the meetings at CCUSA offered any particular insights, both Robin and Samuel were quick to mention two things: disaster preparedness and case management.
"In addition to providing relief after the disaster," Samuel said, "it is most important to help people learn how they can prepare for the disaster, especially in a country like Pakistan that deals with floods, droughts, earthquakes and even man-made disasters."
About case management, Robin said that, for Caritas Pakistan, it's not where it needs to be. "We provide victims of disaster with hygiene kits, shelter, food and other items, but the new thing is going to the victims and their community to provide other services like laundry and health care."
Robin and Samuel also had a chance to meet with Sister Donna Markham OP, PhD, president and CEO of CCUSA, and they relayed to her how much they had benefitted from their visit. "Sister Donna is very kind," Robin said, "and we are so thankful to CCUSA. Thank you from the entire Caritas Pakistan family for providing us with this opportunity."