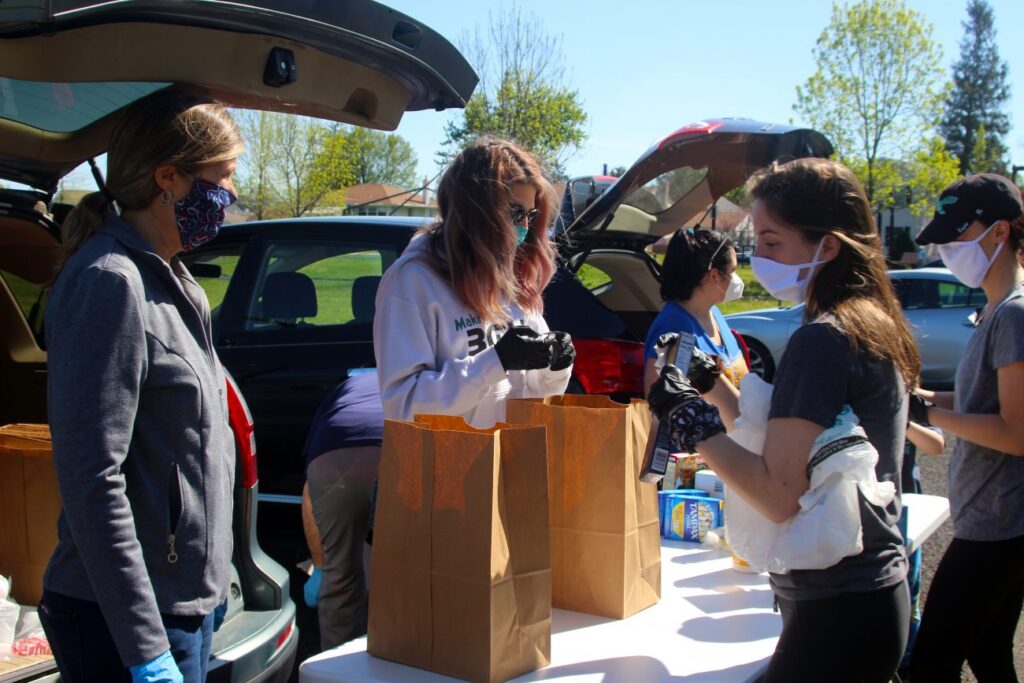 Families in Lower Bucks County recently popped their trunks and tailgates for a two-day curbside food collection organized by a Penndel parishioner.
Debra Gall Metz, a member of Our Lady of Grace in Penndel, spearheaded the May 2-3 event, which netted some 8,000 pounds of food for Mary's Cupboard in Levittown.
Located at the Bucks County Family Service Center of archdiocesan Catholic Social Services (CSS), the site has provided emergency food assistance to some 86,000 residents over the past four and a half decades.
In addition, the pantry (a beneficiary of the annual Catholic Charities Appeal) channels clients to CSS supports such as job assistance, nutritional education, parenting classes and financial literacy.
Dozens of vehicles lined up on Saturday at a Langhorne park and again on Sunday in front of Mary's Cupboard, where more than 40 volunteers at each drop-off point whisked bags of non-perishable items to waiting tables for disinfection.
Maritherese Mitchell, administrator of CSS's Bucks County outreach, said that Metz – a college friend – had reached out to her on Facebook asking how she could help, after seeing an earlier post about a diaper drive for the site.
"Deb connected with friends, family, the neighborhood, even the Middletown Township Police Department," said Mitchell.
Metz in turn credited longtime friend Tracy Detrick of Assumption B.V.M. Parish in Feasterville with spreading the word.
"I created a Facebook invite, and within three minutes she called me," said Metz. "She knows everybody, so 200 invites went to 500 in 15 minutes. And from there, people were just sharing it left and right, and it exploded. Everybody wants to help."
Meanwhile, Mitchell found another friend to assist with hauling the food back to the pantry: Mike Moore, general manager of Paul Davis Restoration in Langhorne, who provided several vans and trucks for the task.
"I'll do anything Teri asks," said Moore, who attended St. Michael the Archangel Parish School in Levittown. "She's known me since I was about three feet high."
The food collection's timing is "perfect," said Mitchell, since "demand is up over at least 100%."
"We're doing our food pantry and diaper distributions twice a week, and we've doubled up on all the appointments," she said.
As requests for emergency food have surged, Mary's Cupboard has faced challenges in restocking its shelves.
The annual Stamp Out Hunger Food Drive hosted by the National Association of Letter Carriers, originally scheduled for May 9, has been postponed indefinitely due to the pandemic.
The collection was one that the cupboard counted on, said food pantry coordinators Terry and Tim Rizzo, especially since other suppliers have themselves struggled with stock levels.
Philabundance, from whom the food pantry normally purchases a number of items, "emptied its warehouse in one week," said Tim Rizzo. "My last order was on March 16, and I went back onto the Philabundance website a few days later to place another order, and everything was gone."
The pantry can't use its stash of grocery store gift cards to replenish its inventory, since supermarkets are limiting sales quantities of their items.
"When I go in, I'm buying 144 of something at a time," he said.
Fortunately, parish-based donation efforts such as the one led by Metz are "holding us together," said Terry Rizzo, as clients' lives are fraying due to the pandemic.
"There are people coming to us who have never been to a food pantry before," she said. "And some have said, 'Oh my goodness, I'll have food tonight.'"
Mitchell and her team have also noted that more of the clients at their site are experiencing homelessness.
Prior to the pandemic, Bucks County had reported a decrease in overall homelessness, but an uptick in the number of those seeking assistance for emergency and affordable housing. CSS clients haven't mentioned any evictions due to COVID-19's economic fallout, said Mitchell, but added that "'yet' is the operative word."
In addition to fighting hunger, she and her colleagues are working to address a broad array of factors that make area families vulnerable.
CSS parent educators continue to offer classes four days a week in both English and Spanish, using the Zoom online meeting platform. Presentations cover prenatal care, labor and birth, newborn care and breastfeeding, among other topics.
"We even have a support group for parenting during the pandemic," said instructor Stephanie Tokarski.
The classes enable educators to assess families' situations and ensure that participants are directed to the appropriate resources.
"It all comes together, and we can help them at every point of contact," said Mitchell.
That kind of reach has enabled other organizations to deliver aid, even to four-footed members of the family, said Michelle Grundahl of the Bucks County Animal Response Team.
The team, a collective of several area animal welfare groups, has provided "a couple of hundred pounds of dog and cat food" to Mary's Cupboard, with more donations planned for next week, she said.
"We know there's a need out there, but we don't know how to directly access those who have it," said Grundahl, whose outreach also assists the Lord's Pantry at St. John the Baptist Parish in Ottsville. "Working with food pantries like Mary's Cupboard helps us to bridge the gap."
Mitchell said that the battle against hunger is one waged "an item at a time."
"If somebody comes and they donate two cans of corn, that's awesome," she said. "If somebody comes with a case of corn, that's awesome too. Either way, it makes my soul smile."
[This article written by Gina Christian appeared originally at CatholicPhilly.com and is used with permission of the author.]