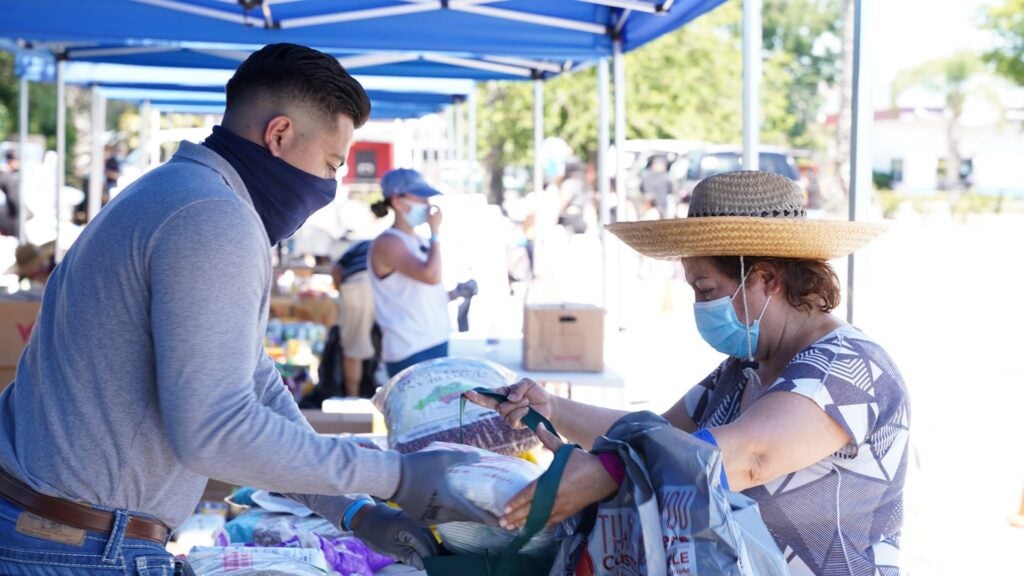 A Blog Post from Greg Kepferle, CEO Catholic Charities of Santa Clara County
"Here they come!" The excited shouts spread through the group of volunteers with cellphone cameras held high. The slow majestic procession of gleaming cars glided by, metal inches from the ground, musical beats pulsing the air. There was something different about these proud lowriders in their antique Chevys, Fords, and Plymouths. They carried boxes of food and supplies in their trunks or in the backseats of their convertibles. And they had signs in their windshields – "Gracias, campesinos! Thank you, farmworkers."
It was a food caravan of lowriders and trucks organized to thank the farmworkers in the south valley of Santa Clara County and to bring public awareness to the plight of farmworkers who even as they feed the nation are often forgotten. They are at high risk of COVID-19 due to working and living conditions. Because of broken supply chains, many farms have had to plow crops under or let them rot in the fields, and have left many farmworkers unemployed for months.
Former Catholic Charities board member and event planner Darlene Tenes, from CasaQ, organized last Saturday's event with the San Jose Women's Club, the United Lowrider Council of San Jose and Catholic Charities of Santa Clara County and other groups. At Catholic Charities, we were looking for a way to help the farmworkers in south county. We had received a grant from Share Our Strength through Catholic Charities USA specifically to help feed immigrants in rural areas. And our Immigration Legal Services Gilroy offices saw many clients who urgently needed, not just legal help, but food and financial help.
Thanks to Father Michael Hendrickson and St. Mary's Parish in Gilroy and Araceli Gonzales, Catholic Charities Director of Disaster Response Services, Catholic Charities staff and volunteers (including Assemblymember Robert Rivas' staff) were able to set up a "farmers' market" in the parking lot. This enabled 120 farmworker families to shop at no cost for the supplies they needed and receive gift cards to a locally owned grocery to help the local economy. Rather than simply receiving the random generosity of strangers, the families could choose the food and supplies they needed.
The lowrider caravan circled the church parking lot and unloaded their food and supplies organized under canopies sheltering fresh produce, canned goods, beans and rice, toiletries, paper goods, water and PPEs. Families waited patiently in the shade of solar panels until they could safely navigate the market practicing social distancing. Masked volunteers registered families, stocked the supplies and helped cart groceries and supplies to cars.
Even as we recognized the desperate need of the farmworkers, we also experienced the power of solidarity. Talking with a group of masked and vested workers, I asked what they grew. They replied, "corn". If you look from the freeway you can see acres that reveal their hard work. Other farmworkers could have as easily replied, garlic, mushrooms, bell peppers, nursery crops, lettuce, wine grapes, or tomatoes. These workers supply our valley with $295 million worth of food each year. And at least on this one warm Saturday in June they received our thanks. "Gracias, campesinos!"