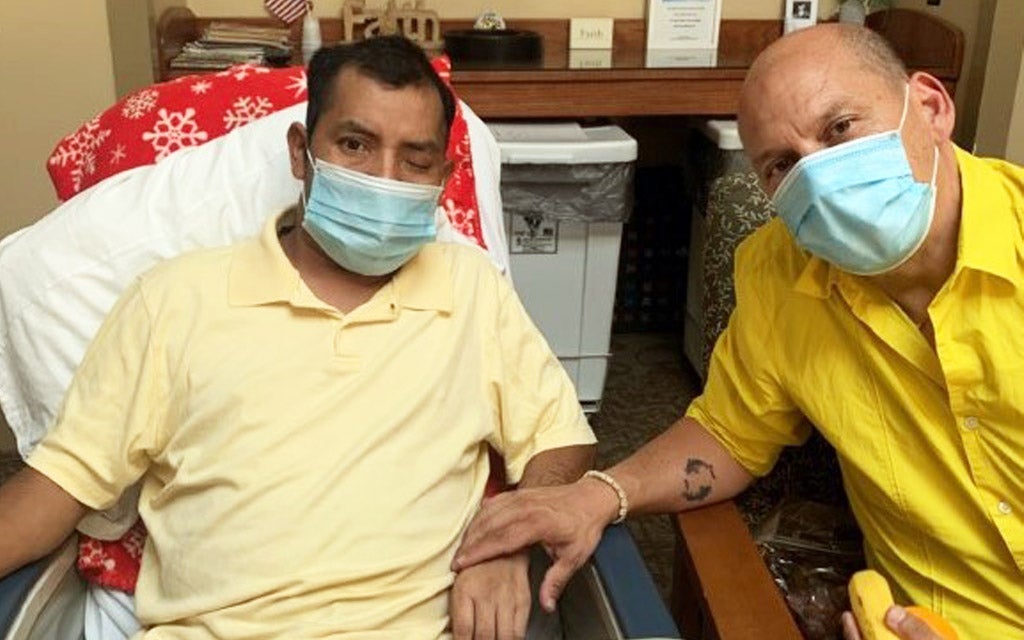 Catholic Charities, Diocese of Paterson, provides help and creates hope for thousands of people each day, throughout all stages of life.
The individuals we serve are the soul of what we do, and we give thanks to God for them.
There are some people whom we assist for decades. Others may drop into our lives for one moment, one bag of food, or one act of kindness.
Others – like Rolando – leave us too soon.
Rolando did not come to us, instead we found him.
In late May, one of the students in our at-risk youth program approached his case manager. The student said that he knew someone in dire need of help. He reported that a man named Rolando living alone in his apartment housing complex looked sickly and had no food to eat. This student was so kind and considerate and offered to spend his own money to purchase groceries for Rolando. Our case manager said not to worry, and that she would deliver food, prepared by our food pantry, to Rolando's residence.
When she visited, she brought food to Rolando, but found him in great discomfort. He had been living in squalor and had no food to eat. What's more, Rolando had an inoperable brain tumor and seemed to be entering his final stage of life.
Our case manager reached out to our food pantry director Carlos Roldan for more assistance.
The very next day, Carlos visited Rolando and brought a week's supply of food with him. Carlos spoke with Rolando and learned more about him. Rolando happened to be undocumented and came to the United States several years prior to provide for his wife and four children living in Guatemala. Over a year ago, Rolando developed a brain tumor and was able to get surgery at a local hospital through its charity care program. Sadly, the tumor returned, and Rolando could not find any medical care and had no money left. He was terminally ill. Rolando continued to work through his severe illness to assist his family. COVID-19 and his worsening condition forced Rolando out of work.
Carlos, moved by Rolando's story, his beautiful family, and his positive spirit, went above and beyond to assist Rolando.
He worked with Catholic Family & Community Services' Director of Pastoral Care, Sr. Maureen Sullivan, to get Rolando medical support through St. Joseph's Hospital. Rolando did not have access to a working kitchen, and Carlos was even able to obtain daily hot meals for Rolando. Rolando's wife would Facetime with Carlos and tell him Rolando's favorite foods, which Carlos would order from a Guatemalan restaurant. Carlos brought comfort, friendship, dignity, and a ray of light to Rolando.
As Rolando's condition worsened, his only request was to get back home to his loving family. Carlos worked for hours speaking to three embassies but was unable to get Rolando home due to COVID-19 travel restrictions. Carlos now realized that he had to find Rolando palliative care.
Through the grace of God, and after many calls, Carlos was able to find a hospice care center that welcomed Rolando at no charge. Carlos visited Rolando every day until the end of his life. Sadly, Rolando went to the Lord in August. Carlos was even able to get Rolando's funeral costs donated.
"I hope to someday personally bring Rolando's ashes to his family in Guatemala. I would love to meet his wife and children who Rolando loved so dearly. He sacrificed his life for them. He missed them dearly until his dying day. I made a friend who I will never forget. I hope that I brought some joy during the final days of Rolando's life," Carlos said.
Though we are saddened by the loss of Rolando, we are proud.
Proud that Carlos connected to Rolando and provided friendship during the final stage of his life. Proud of all who helped, from the boy in our at-risk youth program, to the hospice center. Proud that Rolando's legacy will live on forever through his children, Carlos and the work of Catholic Charities.
Please pray for Rolando's family and for all our sisters and brothers in need throughout the world.