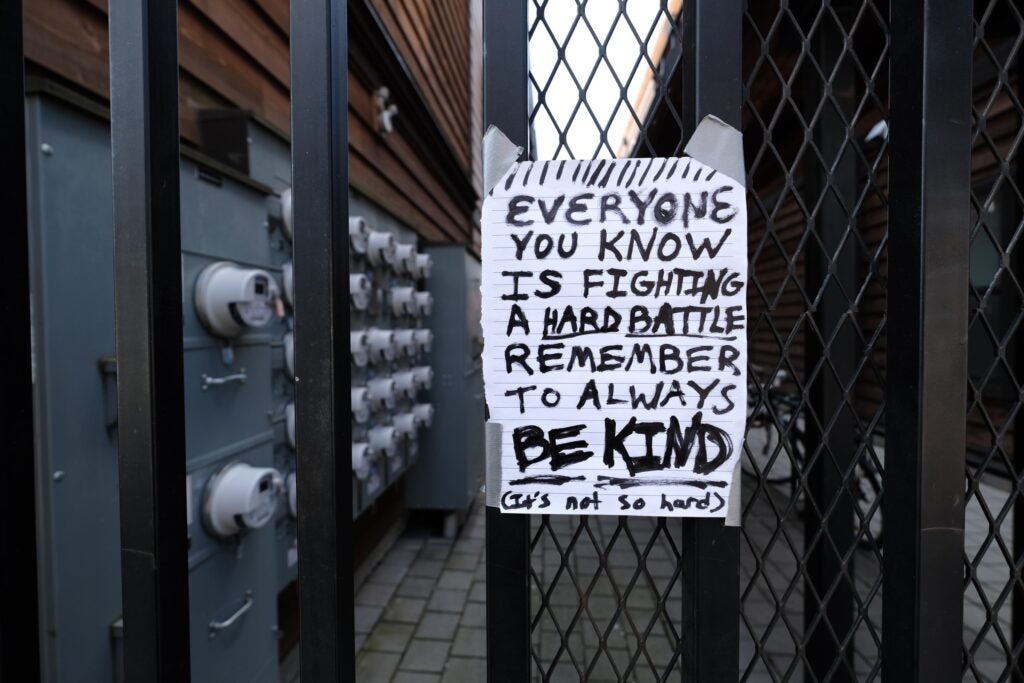 Catholic Charities of Oregon was founded during a global crisis — the Great Depression — and in the intervening years has responded to urgent individual needs as part of its everyday work: providing shelter for the homeless, safety for the trafficking victim, furnishings and clothes for the refugee.
So in many ways, it's well equipped to respond to COVID-19.
"This is what we do; we deal with crises," said Rose Bak, chief program officer for Catholic Charities. The new virus, however, is an unprecedented challenge. To attempt to meet it effectively, the nonprofit has adapted creatively and transitioned primarily to technology-based service models.
Bak has a background in emergency management and said she's never seen anything like the coronavirus.
"We'll have a plan one day and then everything changes," she said. "So it's critical to be adaptable and nimble while trying to be calm. At the same time we are constantly worried about our families along with those we serve."
'Eagle eye toward the most vulnerable'
The organization — which serves approximately 20,000 individuals and families per year in the state — is juggling multiple priorities as the number of coronavirus cases mount. It's working to protect staff, clients and volunteers, slow the spread of the virus, and maintain essential operations. Catholic social teaching grounds its work, and thus "the preferential option for the poor means we have an eagle eye toward the most vulnerable and their care," said Deacon Rick Birkel, the executive director.
In mid-March the agency asked most employees to work remotely and moved much of its programming online, including counseling, financial wellness, refugee services and immigration legal aid.
A few days later, when Oregon Gov. Kate Brown's March 23 executive order directed Oregonians to stay home to the greatest extent possible, Catholic Charities closed its main offices to the public, keeping only a few essential staff on-site. It will continue to hand out food and hygiene products to the homeless and, as of this printing, its drop-in center for homeless women remains open with limited services.
Making adjustments
Even before the massive shift to online service models, programs such as Save First Financial Wellness had robust online setups. Others, including the Intercultural Counseling Center, "have very quickly tried to adapt," said Bak.
Technology-facilitated therapy sessions allow mental health support to continue, but they present some challenges, said Lucrecia Suarez, manager of the counseling center.
Mirroring is a therapeutic process where a counselor observes an idea or emotion in a client and expresses it back to him or her. It is a technique that at times relies heavily on visual observations, and it typically is accompanied by nonverbal communication — a facial expression, a posture or sigh — that shows empathy.
"You have to be a little more cognizant of mirroring using phone-based counseling, like making sure they can hear your breathing, using a different tone of voice, and informing them you are there with them even in moments of silence," said Suarez.
The coronavirus has affected clients in diverse ways. Suarez said during one recent phone session a woman described a trauma reaction after seeing the barren grocery store shelves, cleared out by people stocking up or hoarding. The client realized food was a way she'd found comfort while growing up in a home lacking emotional support. "Seeing the empty shelves brought up a feeling of scarcity," said Suarez.
Secure and connected
Catholic Charities' Caritas Housing provides around 1,900 residents with affordable housing units statewide. The low-income families who dwell in the units likely will be disproportionately hurt by a loss of income during the crisis.
"There are many in the service industry who now have no money coming in," said Bak. Restaurants and bars in the state are largely closed by an order from Brown.
Caritas Housing includes more than 200 seniors, a population especially endangered by the virus.
To aid its vulnerable residents, Catholic Charities extended a moratorium on late fees and evictions related to nonpayment of rent during the pandemic. It implemented the moratorium for all of its properties in advance of a similar policy announced by Multnomah County March 17 and the March 22 executive order that placed a 90-day statewide ban on residential evictions for nonpayment.
Staff also are doing regular welfare checks for residents and other current and former clients, ensuring they have what they need to feel safe.
There is a script for calls to ensure nothing is overlooked. If a client is coughing, staff ask if it's a new cough, and if needed walk them through how to call a doctor or advice nurse.
Bak said staff are encouraged to let the conversations run longer than usual "if someone really needs to talk."
"It's a way to keep staff working in a way that helps people," she said. Some employees' responsibilities have been modified during the pandemic, but there have not yet been coronavirus-related layoffs at Catholic Charities.
Supporting women
Kenton Women's Village, a community of tiny houses for homeless women in North Portland, is maintaining one-on-one meetings practicing social distancing and has postposed all group meetings. As much as possible, staff have increased access to food and hygiene products.
"TV and social media, seeing stores run out of food and TP, it has caused so much fear and anxiety" among clients, said Bak, who along with other staff tries to be a calming presence.
Though Catholic Charities does not have specific programming for victims of domestic violence, "we are keeping our ears out for things, listening for cues," Bak said. "If we know someone is struggling we remind them domestic violence resources are still open."
Oregon organizations serving domestic violence survivors say they have seen a spike in calls to crisis hotlines recently. This is likely due to an explosive combination: People are confined to their homes, there is widespread economic turmoil and the number of confirmed cases of coronavirus continues to rise.
Longer-term plans
Catholic Charities is preparing for the possibility of the pandemic lasting for months.
Birkel said the strategy is to scale essential programs and services rapidly to reach more people, including with emergency financial assistance, mental health support and food security.
It already has made its financial wellness program, which includes emergency financial assistance, available online statewide. It is looking at how to scale and coordinate a response to food insecurity by building on existing food pantry and food delivery operations in the Portland Archdiocese.
"The silver lining here may be that this is causing many of us to adapt and discover more ways to provide services," said Bak. "My hope is that we learn from this best practices around disease prevention and technology use. And I hope it helps all of us more fully appreciate the power of human connection."
Volunteer work continues
Many Catholic Charities volunteers are older and have opted to halt their volunteer work temporarily, said Rose Bak, chief program officer for Catholic Charities. But at present, volunteer efforts are not suspended, and those who feel comfortable may continue to work while following government protocols such as social distancing. Recently a number of volunteers have been calling refugee families to check in and boxing up items for the food pantries.
To help
To learn ways to support Catholic Charities of Oregon, go to catholiccharitiesoregon.org/give-help. Also, get more coronavirus-related information at CCUSA's COVID-19 Resource Center.
© 2020 Catholic Sentinel, a service of Oregon Catholic Press. Used with permission of the author, Katie Scott.