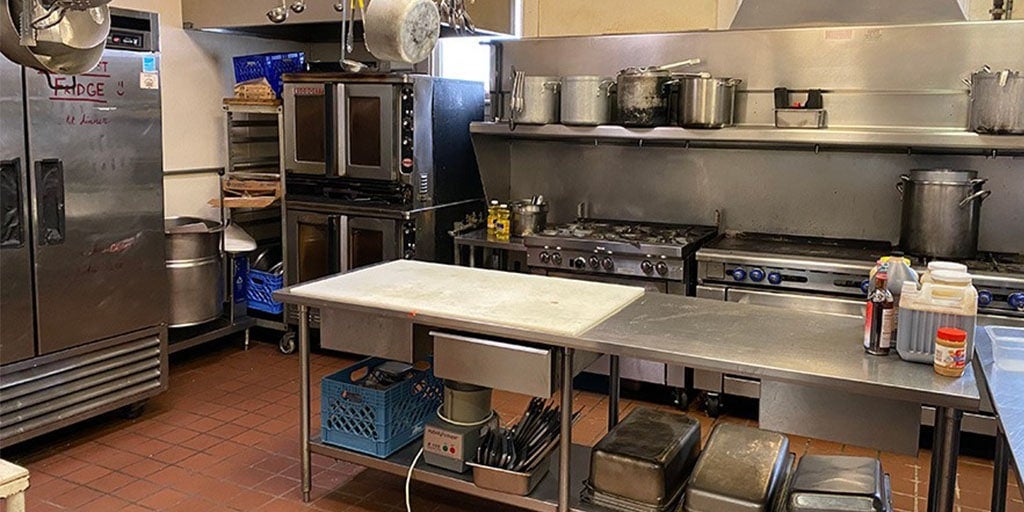 Some former parishioners mourn changes, but new parishioners, neighbors and businesses like the plans
The St. Francis Dining Hall building in Southeast Portland is closed because of coronavirus. But the venerable feeding ministry for people who are homeless continues and now includes additional elements and big dreams.
"We wanted to build on what parishioners have done for decades," said Rick Birkel, executive director of Catholic Charities of Oregon. "The people who started it laid a beautiful foundation for the coming ministry."
After months of talks, the Archdiocese of Portland and Father George Kuforiji, pastor of St. Francis Parish, asked Catholic Charities to oversee the dining hall, which has provided food, warmth and human contact at least since 1971 when it opened as a senior feeding site. Catholic Charities began managing the ministry in June 2020. Since then, the agency has created a feeding and volunteer program called Hot Meals for Unhoused Neighbors. From the dining hall emerge as many as 1,000 meals a week for unhoused people in Southeast Portland.
A new culinary director, Darius Jones, focuses on offering balanced nutrition, providing the kind of calories people need to survive on the cold street. For example, breakfast includes an egg scramble that uses olive oil and vegetables, turkey sausage, a slice of whole wheat toast with margarine, and a bottle of juice.
To keep the feeding going, Catholic Charities has created a food donation stream through partnerships with the Oregon Food Bank, the Church of Jesus Christ of Latter-day Saints, local Catholic high schools and community gardens. Many donors contribute cash for food and equipment.
Social services
Aware that homeless residents especially feel the emotional pinch of the pandemic, Catholic Charities brought a peer support specialist to the site. That's someone with lived street experience who can talk to guests, build trust, and then bring guests into Catholic Charities for services.
"This person walks alongside the unhoused people at St. Francis and provides individualized support while working with each individual to achieve goals they've identified," said Birkel. "We have helped several former campers find permanent housing."
Another partnership has boosted health care at the dining hall site. Two teams of nursing students come twice per week to perform first aid, set up medical appointments, give help filling prescriptions, perform depression assessments, fill out housing applications, get food stamp applications in order, assess health insurance and simply hold conversations.
Catholic Charities sends outreach workers to the site twice a week to connect homeless people to Catholic Charities housing opportunities.
More housing planned
Plans are still forming, but the ministry may move out of the church basement and into its own building. For the future, Catholic Charities envisions working with local and health partners to create more housing — perthaps about 30 units — with a service center on the ground floor. The block already is home to the 106-unit St. Francis Park Apartments, completed in 2017 and housing residents of low and moderate income.
The new facility may include a daytime drop-in center or a warming shelter, plus meals. Campers and neighbors also say they'd like a jobs program. The project likely will provide peer support, health check-ins and mental health services.
"We learned from the St. Francis Park Apartments that housing can be a stabilizing force in a neighborhood," said Birkel. "People who are formerly homeless need a lot of assistance and can get it in our housing."
Engaging the neighbors
The archdiocese and Catholic Charities are trying to balance the needs of homeless people with the needs of homeowners and businesses in the Buckman neighborhood. The previous dining hall ministry, for all its goodness, in some ways made life hard for neighbors.
Members of the city's large homeless population have long congregated on the blocks surrounding St. Francis. The draw is not only the dining hall. Though the area is changing, the many industrial businesses mean there is minimal foot traffic, and so more people camp outside.
Recently there've been assaults on pedestrians, and some business have had their emergency exits blocked by homeless encampments.
Property owners tend to support the dining hall ministry but want more management.
Catholic Charities is leading a neighborhood planning process along with the archdiocese, the parish, and Providence Health and Services to develop a master plan for the Buckman neighborhood to serve people who are homeless. In the conversation are businesses, homeowners and those who live on the streets.
"We want this to be a Buckman project, not just a St. Francis Parish project," said Birkel. "We need to make sure neighbors, parish and the archdiocese are on the same page."
Birkel said the process included a new look at what people need most in the neighborhood. An answer emerged: housing and professional social services.
As part of its discussions with the broader community, Catholic Charities reached out to the Central Eastside Industrial Council last summer. The council is an association of businesses in inner Southeast Portland.
"Catholic Charities wanted to engage with businesses to make sure there was a real improvement for the whole district, and I've been really impressed with how much they've engaged," said Kate Merrill, executive director of CEIC.
Catholic Charities' vision for wrap-around services and its housing initiative "fall in line with our goals of getting people who are living outside housed," said Merrill. Merrill said businesses support what the dining hall has done in the past, but they wanted a more wholistic approach that could help reduce crime and provide long-term assistance.
She appreciates the dining hall's tradition of radical hospitality. "Catholic Charities is providing more structure and capacity than St. Francis has in the past, and that is going to be a positive change that I don't believe is at odds with what parishioners were saying," she said. "I think Catholic Charities is meeting people where they are with things that are really necessary to move forward."
Birkel is glad neighbors and businesses are open to the changes for the ministry. "They just want whoever manages it to be accountable to the neighborhood," he said. "You need to manage the impact. If you don't, that can damage the church's outreach."
Catholic Charities hopes to have a shared vision for the St. Francis property to submit for public bond funding this spring.
Worried about changes
Some of those who ran the dining hall in the past cherished its informal and gentle hospitality and are leery the project may become too corporate. Some longtime parishioners expressed sadness and anger at the swift transformation. They also bristled that parish liturgy was brought in line to conform with universal church norms.
Pat Bectold, a member of St. Francis for 40 years who moved to another parish last year, believes Catholic Charities likely will benefit the community in some ways, but grieves the loss of her unique former spiritual home and its social ministry.
The dining hall has roots in the Catholic Worker movement, and that was a guiding model for decades, said Bectold, who taught in archdiocesan schools for more than 30 years. "We were always a small local program, but we were a family. We knew everyone by name. We rejoiced when people got into housing or found a job."
She recalled one older man who liked a particular kind of tea, which she used to bring for him.
In recent months, Bectold and other former parishioners started a mobile ministry to the Buckman neighborhood, driving a van and offering food, clothing, tarps, medical and hygiene supplies.
"We are trying to keep track of the people we know, of our friends," she said.
Jerry Harp is a former parishioner of St. Francis who tried hard but unsuccessfully to bring all parties together.
"I spent the better part of a year as co-chair and then chair of the pastoral council in order to get the two sides to talk to each other," he said. "After a year of trying, I discerned I had accomplished nothing." Harp now attends Mass at St. Ignatius Parish in Southeast Portland.
"Catholic Charities is probably going to do great things, but I also think there was a real passionate commitment on behalf of the parish," said Harp. "If that unconditional embrace continues to be something that Catholic Charities can do and also offer expanded services, that's all to the good."
Father Kuforiji said that while Catholic Charities manages the dining hall, it still belongs to the parish. "It's part of the charism of the parish, so it will always be a part of it," he said.
The priest said Catholic Charities has been managing the ministry well and that new parishioners are supportive. When pandemic-era restrictions are lifted and the dining room is reopened in some form, he believes current parishioners will volunteer and be involved.
'A complete vision'
Birkel respects the prior ministry, but thinks the new model is even better and will retain a personal touch. "The real story is not that something ended, but what is in the works and the ongoing planning and community engagement that has begun to envision a truly state-of-the-art facility and service center," he said.
He wants St. Francis to maintain its charism while becoming even more coordinated with the city and county response to homelessness.
"Comprehensive services are coming," said Birkel, who sees St. Francis as one part of a Catholic Charities social service hub that will include St. Philip Neri Parish on Division Street and the Catholic Charities offices on Powell Boulevard.
"We have worked for many hard months to transition to a place where we can finally build a new vision and a broader outreach ministry at St. Francis Parish," said Todd Cooper, a chief aide to Archbishop Alexander Sample. Cooper has helped lead the transition, listening to many perspectives for hours.
"It's going to be built on the ministry that was there," said Cooper. "It just may not look like the ministry that was there. They were operating a ministry there that needed some change."
Cooper calls the proposed ministry "a complete vision grounded in Catholic identity." He met with representatives from the mayor's office, police, neighbors and business owners to formulate the new proposed plans. "Once it gets going, people of all kinds will embrace it," he said.
Cooper said Archbishop Alexander Sample considers outreach ministry at the site a part of Catholic heritage and wants it to continue.
"We need to do it. We want to do it," Cooper said. "We just need a new way of doing it. Circumstances have changed over the years. This provides an opportunity to do something new that is built upon the old."
Cooper said the new center will be a place where, as Pope Francis urges, the church will encounter people on the peripheries. "As Catholics, we want that encounter to take place," he said. "It's all about human dignity in the end. We work with people and cooperate with them to bring them to a better place."
Katie Scott contributed to this story
The article is used with the permission of the author and the Catholic Sentinel, a service of Oregon Catholic Press. Click here for more information about Catholic Charities USA's Healthy Housing Initiative.