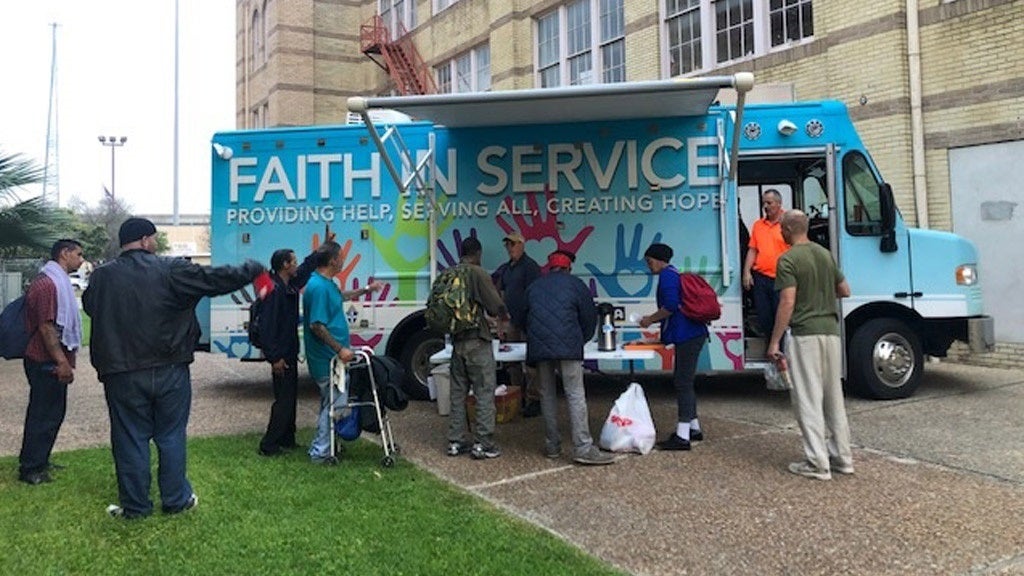 Catholic Charities, Archdiocese of San Antonio's (CCAOSA) mobile unit, called HOPE, deployed the week of March 16, 2020, to help those experiencing homelessness. Meanwhile FAITH, CCAOSA's shower truck and washing machine unit, stands ready to be sent where it is needed.
CCAOSA's food pantries helped more people during the week of March 16 than they did the previous month. We also started a partnership with an IDEA Charter School that needed help with food. The first day we served 234 meals. We know the number will increase. Two churches that had never asked for food, received food from St. Stephens CARE Center. It is amazing to see how food can make a person so happy. A huge gratitude to the people who donated money and food to the pantries this week. I am honored to receive and pass 100% of that help to others.
As you know, seniors are the most vulnerable population with this virus. The Adopt-A-Senior program is truly a blessing. Last week I enjoyed helping the program, taking food to Ms. Clark, a lady turning 70 years young this month. We took her food supplies to cover two weeks, including eggs, meat, milk, and fresh vegetables from our organic garden. She was overwhelmed and cried with gratitude. Many other seniors got food this past week through Adopt-A-Senior as well. Love the program, and admire tremendously Lupe Morin, the employee running the program.
Shelter census numbers are increasing as we see more clients in need of help. Casa Nacho is full, Guadalupe Home is getting there, and the numbers at St. PJ's and Seton Home have increased this week. The state has indicated that they believe we will see an increase of children in the weeks to come. An unfortunate side effect of communities in crisis becomes children who are abused and neglected. Our dedicated teams have made serving those populations a priority and are committed to keeping our clients health and safety.
We were able to open a place for children from the community and our employees during the day in case parents have to work. We will do as much as we can while we can.
Social distancing, checking temperature, working remotely are terms that more than ever we are familiar with. We are learning how to do it, and staff and clients are working together during this difficult time. (Here are links to CCAOSA's COVID-19 page and CCUSA's.)
Please pray for all the employees and clients we have. I am very proud of the front desk receptionists that we have. We have the best in the world, always willing to help with a smile, risking their own health for others.
Antonio