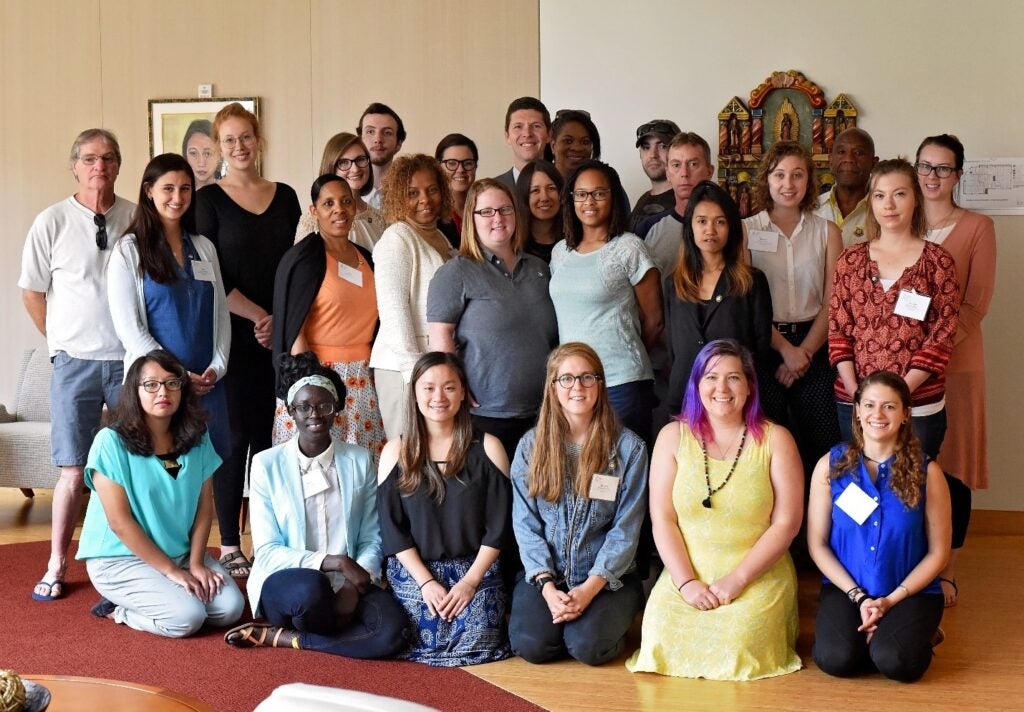 AmeriCorps members working with Catholic Charities help refugees resettle in a number of ways, including language, case management and legal aid. But one essential part of their service is providing financial literacy to refugees, helping them toward self-sufficiency.
CCUSA incorporated financial literacy into the application for the Refugee Resettlement AmeriCorps Program. The Corporation for National and Community Service gives priority to programs that provide economic opportunity assistance, and Immigration and Refugee Services are a CCUSA strategic priority, so there was a natural intersection.
A curriculum was developed with interns from the George Mason University Master of Social Work program and input from our participating agencies. Each refugee served through the financial literacy program receives, at minimum, a one-hour class that covers a range of topics, including basics of money, budgeting, check cashing, credit and debit cards, maintaining good credit, avoiding scams, and more. Each AmeriCorps member tailors the curriculum to highlight local resources, like public transportation systems and local banks.
Currently, CCUSA's 24 AmeriCorps members are serving at 15 refugee resettlement agencies across the country. These AmeriCorps members have served almost 700 refugees through financial literacy courses since the start of the program a year and half ago. CCUSA requires that each client complete a pre- and post-test as a way to measure the impact. Almost 250 clients increased their knowledge in financial literacy by at least 20 percent.
While the AmeriCorps members are providing more intensive services, they are also able to serve more clients by going out into the community. Anahi Marcos Salvador, an AmeriCorps member serving at Catholic Charities Fort Worth, has taught classes at apartment buildings where many refugee families live, allowing them to bring their children. This helped mothers attend the course and learn about financial management. Daniel Davis, AmeriCorps member at Catholic Charities of Camden, was also able to reach female refugees through a women's empowerment program that taught Syrian refugees about financial management and credit.
Another way AmeriCorps members have used financial literacy education is to target refugees participating in social enterprises. Bethany Buchanan, who serves at Catholic Charities of Northeast Kansas, assists with the agency's New Roots for Refugees program. This model builds on the strengths and experience that the refugees already possess, helping them to start their own small farm businesses growing and selling vegetables.
"The financial literacy training I taught to farmers beginning new businesses helped broaden their understanding of individual state sales taxes and how to save in preparation for annual filing," Buchanan said. "I have seen refugee farmers for the first time file sales taxes on their own, and understand what is expected in terms of filing. The financial literacy course has supported farmers in business planning, helping them grow and establish their business knowledge."