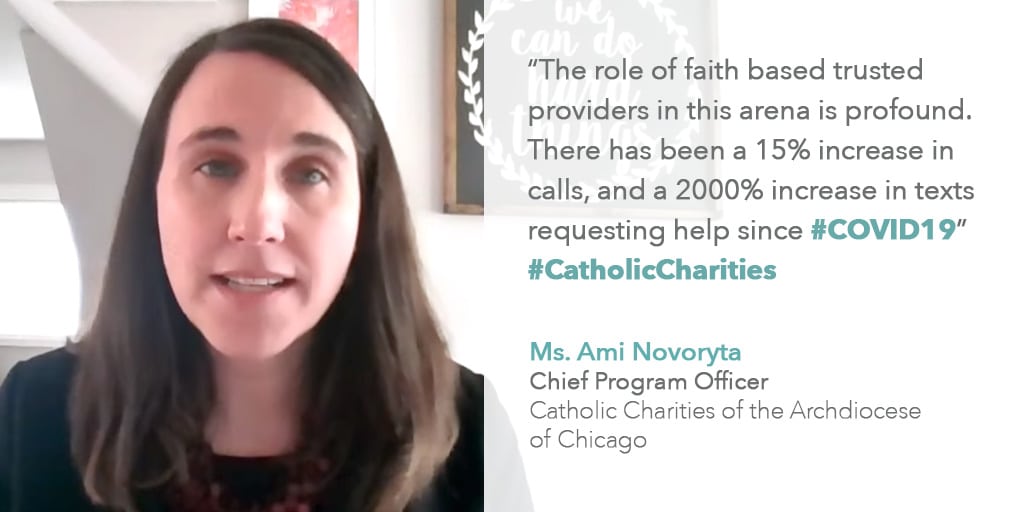 Ami Novoryta, chief program officer at Catholic Charities of the Archdiocese of Chicago, gave testimony before the House Committee on Education and Labor Subcommittee on Civil Rights and Human Services on March 22, 2021. The hearing, chaired by Representative Suzanne Bonamici (Dem., Oregon), was entitled "Ending the Cycle: Examining Ways to Prevent Domestic Violence and Promote Healthy Communities."
Novoryta noted that every year Catholic Charities of Chicago helps nearly 200 survivors of domestic violence. Often it is faith-based communities like Catholic Charities that survivors feel most comfortable contacting.
The COVID-19 pandemic has compounded the struggles faced by survivors through financial stress, unemployment, isolation, increased family conflict, and deepening mental health issues.
"For persons experiencing domestic abuse," Novoryta said, "lockdowns and other COVID restrictions have forced them to spend more time with their abuser and less time with their support networks, increasing survivors' difficulty trying to flee."
In her testimony, Novoryta urged Chairwoman Bonamici and the other committee members to fully support funding for the prevention of domestic violence. "None of us can do this work alone," she said.
The greatest immediate needs for survivors are safe housing away from their abusers and trauma-informed counseling, but the process of healing takes time and is very complex. Catholic Charities of Chicago has found that helping survivors to self-sufficiency involves three main services: transitional housing for up to two years, intensive case management (food services; addiction and/or anger management; financial literacy; on-site child care; etc.), and participation in after care programming.
Novoryta said that Catholic Charities of Chicago already collaborates with churches, hospitals and other organizations to expand access to free, confidential services for survivors. Together these organizations are helping people regain control of their lives and begin their healing process. It is a work worthy of public support.