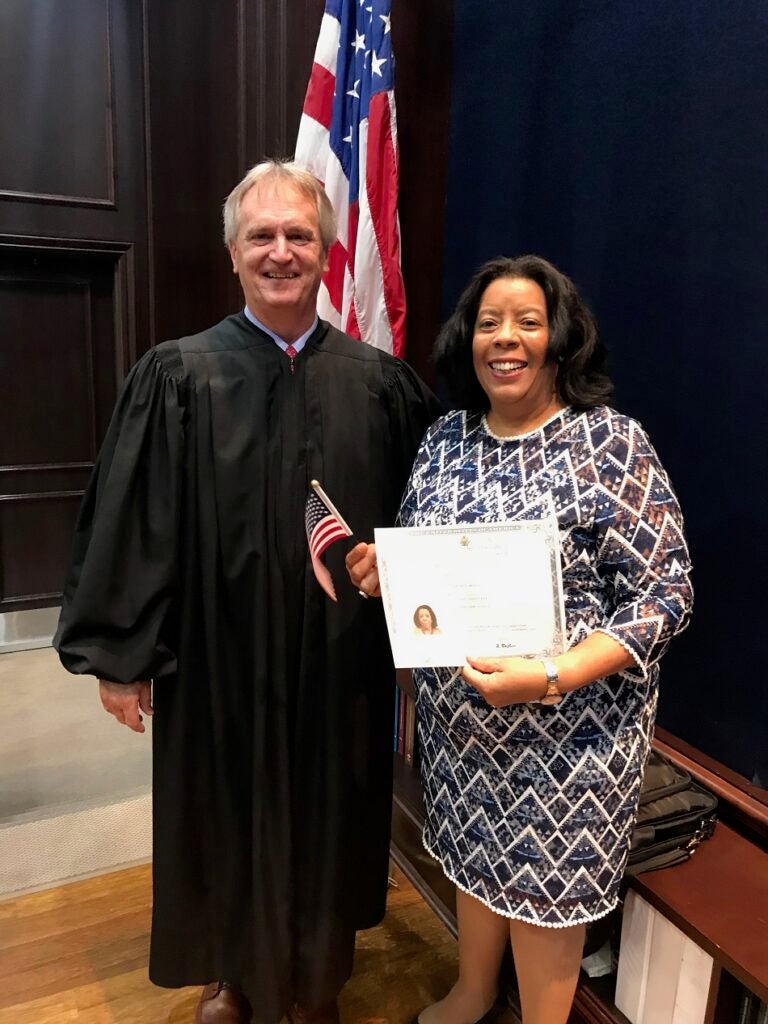 Since 2017, Gilda Rada-Garcia has worked as an immigration advocate with Catholic Charities of North Louisiana's Immigration Integration Services program. She provides assistance and guidance to clients seeking to become legal residents or naturalized citizens of the United States.
On September 12, 2018, surrounded by friends and CCNLA staff members, Rada-Garcia joined two of her clients as she and they took the oath to become United States citizens during a ceremony in downtown Shreveport.
Rada-Garcia was born in Venezuela and then, in 1986, came to the United States where she lived and worked. Her oldest son was born in New York before she went back to Venezuela in 1999. In 2012, she returned to the U.S. and came to live in Shreveport with her family through a diversity visa, which was awarded through the lottery system.
Having lived as a resident for five years, Rada-Garcia could take the first steps toward becoming a U.S. citizen by filing an application in April 2018.
In July 2018 she traveled to Fort Smith, Arkansas, to be interviewed and take the citizenship test, a test that only one in three current Americans can pass. In order to prepare for the test, Rada-Garcia was given a list of 100 possible questions. The topics included government, history, civics, geography, symbols and holidays. To pass the test the applicant must answer correctly six out of 10 questions. Rada-Garcia passed both test and interview, and she was ready for the final step – taking the oath to become a U.S. Citizen.
Just prior to taking the oath, Rada-Garcia said that she was looking forward to calling herself an American. "I got to know this country as a resident and have enjoyed working with our immigrant clients," she said. "I take my role as an American seriously, as well as all of the rights and responsibilities that come with citizenship."
When asked if she felt any hesitation about taking the oath, she replied, "I have not lived in my native country for many years and now consider the United States to be my home. I would not be the person that I am without my life as a Venezuelan, but now I am happy to say that I am an American."
Having gone through the citizenship process herself, Rada-Garcia will now use her experience to help CCNLA's immigrant clients go through the same process.
One of the first responsibilities she will carry out as a citizen is casting her vote in the November 2018 election. "I will never take my life for granted as a citizen of the United States" said Rada-Garcia. "It is up to me to take advantage of what our country has to offer."
The Immigration Integration Services program is funded in part by the Louisiana Bar Foundation and United Way of North Louisiana and serves clients throughout north Louisiana. To find out more information, contact Catholic Charities at (318) 865-0200 or visit www.ccnla.org.